For Sales & Support Call
+44 (‍0) 1582 47‍0‍0‍0‍0
Super Precision Gyroscope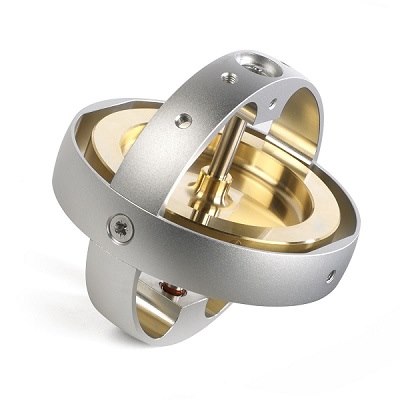 Scroll Down for Pricing Options
Super Precision Gyroscope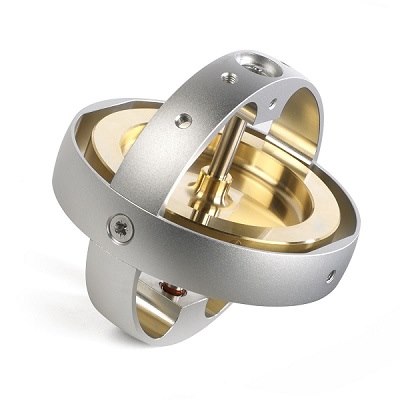 Scroll Down for Pricing Options
The Super Precision Gyroscope has been designed and built to the highest precision from the very start, made from solid brass with a light-weight aluminium frame. Carefully chosen stainless-steel miniature ball bearings allow it to run smoothly and almost silently for an amazingly long time. The gyroscope comes with a number of attachments allowing numerous configurations to perform scientific, educational or simply mesmerising experiments.
The gyroscope comes with 2 x 50 mm long stainless steel extension rods, 2 x ball ends, 1 x slotted end. The rods when screwed together will extend 100mm, they can be screwed in other positions to create various experiments. There are 7 places on the gyroscope that the attachments can be screwed into.
The modular design allows for numerous tricks and experiments including demonstrating gyroscopic precession and nutation. The optional gimbals kit add-on dramatically expands the range of experiments turning into an ideal educational tool. Due to popular requests we also created a rate kit add-on which allows pilots to understand how a rate gyroscope works.
The Gimbal Kit is a modular set of twenty four components that complement and expand the number of experiments that can be performed. They are compatible with components that are supplied with the gyroscope and can be used together. One of the main features is to provide 2 axis gimbals for the gyroscope but many other experiments can be performed. The gimbals make precession and nutational forces easy to demonstrate.
Very high precision manufacture
British design
Super Precision Gyroscope required
Set Includes:
1 x Centre hub
3 x legs (can be used as extension rods)
3 x Feet (connects to ends of legs)
3 x rubber O rings (fit on feet)
3 x Hex screws to secure feet to legs
1 x Plastic washer for top of hub
1 x Pin (fits into hub and horizontal arm)
1 x Hex screw to secure pin to horizontal arm
2 x Gimbal vertical arms
2 x Thumb Screws
1 x Centre beam
1 x Counter weight
1 x Grub screw for counter weight
1 x Alan key
View product specifications
Pricing Options
Have a question? Call us on +44 (0) 1582 47 00 00
Product Specifications
| Specification | 445-445 | 445-446 | 445-447 |
| --- | --- | --- | --- |
| Description | Super Precision Gyroscope with Electric Starter | Gimbals for Super Precision Gyroscope | Super Precision Gyroscope with Electric motor |