For Sales & Support Call
+44 (‍0) 1582 47‍0‍0‍0‍0
Moulded cordset 13A plug to straight IEC socket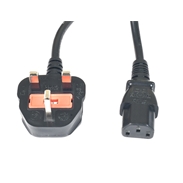 Moulded cord set comprising straight socket, and 13A sleeved pin plug to BS1363A, fitted with interchangeable 5A fuse. Colour Black. 3 core 0.75 mm cable.
Overall length 1.95 metres
. Manufactured to BS4491 and IEC320/CEE22 requirements, socket and plug incorporate ribbed cable strain reliefs for maximum flexibilty.
Approved to VDE, NEMKO, SEMKO, DEMKO, KEMA, and most other European approvals.
RoHS compliant

Sorry! No products were found matching this criteria